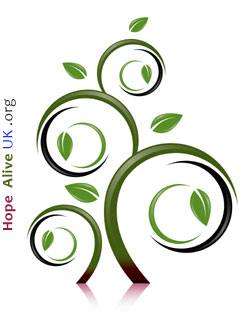 Do you feel depressed?
Do you cry for no apparent reason?
Do you feel dispirited?
Do you feel angry?
Do you have disturbing dreams?
Do you feel life has no meaning?
Do you feel you have no right to be alive?
Are you afraid to love or be loved?
Are you afraid of commitment?
Do you have difficulty relating to children?
Do you have uncontrollable feelings of rage?
Do you feel neglected?
Do you feel abandoned?
Do you feel rejected?
Do you feel tragedies are repeated in your life?
Do you feel discouraged?
All the above (and many other) difficulties may be attributed to:
Child Abuse and Neglect
Pregnancy Loss Syndrome
Pregnancy Loss Survivor Syndrome
Many men and women have been deeply damaged by these issues. Hope Alive group therapy counselling has facilitated the healing of large numbers of adults and their families. The course comprises 30 sessions, either one or two per week, plus homework. There are three follow-up sessions at 3, 6 and 12 months. The phases of treatment are as follows:
Commitment
Realising Mistreatment
Changing Anger & Withdrawal
Dealing with Guilt
Removing False Faces
Passing through Despair
Grieving my Losses
Reconciliation
Reconsidering Relationships
Rehabilitation & Rejoicing
Future & Beyond
Follow-Up
Download Outline of Therapeutic Phases (PDF)
The course is led by two counsellors, with four to seven counsellees. It provides in-depth insight and teaches many new skills for knowing and growing. Hope Alive is specifically designed to help heal those deeply damaged by childhood mistreatment and pregnancy loss. It includes:
Dealing with resistances to knowing & growing
Gaining insight from re-enactment of unresolved conflicts
Learning new behaviours
Participants in group counselling are expected to pay a modest fee. This is for their benefit and also to generate some financial support for IHACA (International Hope Alive Counsellors Association), which was founded in 2003 by Professor Philip Ney and Dr Marie Peeters-Ney. However, the pre-treatment evaluation, which takes about 2 hours, is free of charge.